On April 8, a letter arrived at the Korea.net offices.

It was from one of our readers, Cut Vitarie Hadiana, a 27-year-old Indonesian who stumbled upon an article at our homepage about Christopher Rucinski, another reader who visited our offices on March 28 to have lunch with the team.

In the letter, Hadiana noted that, "As Christopher said, I've really gotten into the beautiful contrast between tradition and modernity in Korea."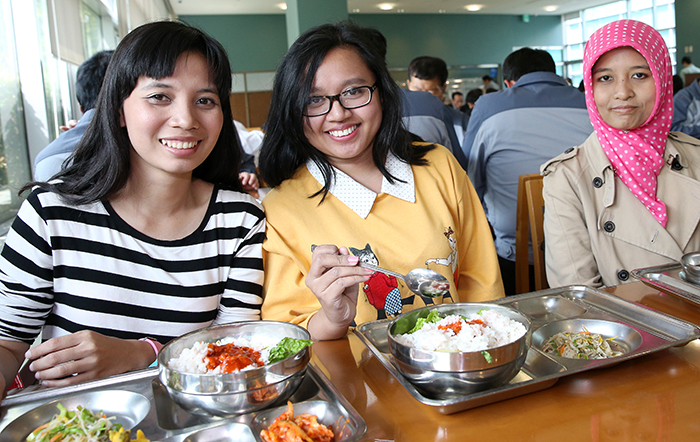 Hadiana was already planning a one-week visit to Korea starting on April 20, accompanied by her college friend Petty Arniza, for whom it was the first time to travel across Korea, and Anieta Carolina, who Hadiana had befriended while traveling in Korea last time.

The letter showed Hadiana's earnest wish to see more of the "real aspects" of the country, a country that she was about to visit for the eighth time.

"What really intrigued me about the Korea.net article was not only the conversation the visitor had with the Korea.net team about Korea, but also the idea of having lunch for KRW 3,500. In my experience, I've never found lunch for that price anywhere in Seoul. I'd really love to try it out when I'm in Seoul this time," she said.

Exactly what is it about the place that has drawn Hadiana to visit the country as many as eight times?

Her eagerness to learn more about the country started when she watched the popular KBS drama "Endless Love" in 2000.

She was quoted in her letter as saying that, "I felt like I got sort of an attack of the Korean Wave, or hallyu, as I watched Song Hye-kyo and Song Seung-heon star in the drama. I instantly fell in love with the soap opera and its characters."

Hadiana is crazy about hip-hop and pop music, as well. A big fan of the four-member rock band CNBLUE, she made sure to include the band's Seoul concert in her itinerary.

"I even once endured a one-hour wait with other fans in front of an entertainment agency to catch a glimpse of some of my stars, including CNBLUE," she said.

She hoped that her friends, not that knowledgeable about Korea, would have a chance to see in-person how beautiful and how intriguing the place is.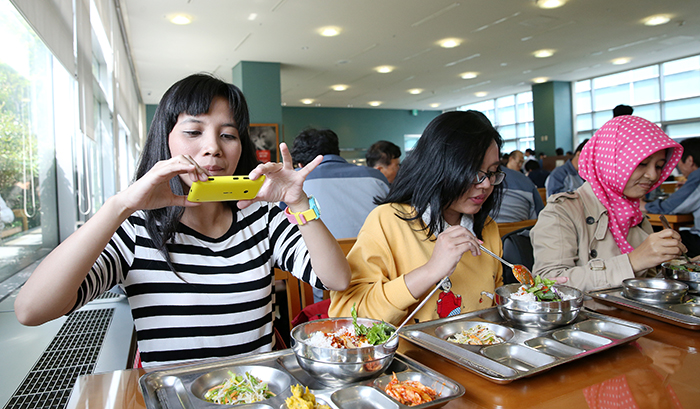 The three readers visited our offices at the National Museum of Korea on April 23, the second set of guests in our so-called "Korea.net's lunch invitation" series.

Hadiana and her two fellow travelers, all curious-eyed, repeated, "What a great deal! Can you believe that you can have lunch for just KRW 3,500?"

Watching so many people stand in line for lunch at the cafeteria was a somewhat unfamiliar sight for them.

"It's unusual in Indonesia to see people queuing at lunchtime," said Arniza.

On the menu that day was bibimbap, a dish of mixed rice with vegetables and seasoned with gochujang, a traditional red-pepper paste.

Anieta Carolina, who has visited the country twice, found that Korean and Indonesian cuisine have something in common. "We have a similar dish to this type of mixed rice with vegetables," said Carolina. "We also enjoy something similar to tteokbokki, rice cake seasoned with gochujang, though the use of traditional spices is somewhat different."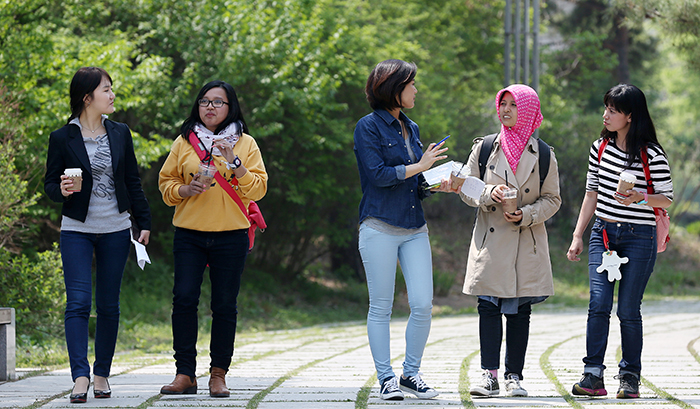 The more we talked with them, the more impressed we were, as we saw how much they knew about the country, sometimes more than Koreans ourselves.

They started to tell stories of all the experiences they'd gone through during their numerous stays in Korea. They once visited a special café, Princess Diary, where they were able to try on a wedding dress. They sipped a cup of coffee and put on airs of elegance. On another trip, they were able to attend a hologram concert featuring the five-member boy group BIGBANG and global star Psy. That was their favorite, as it was their first hologram concert ever.

"I got to know BIGBANG for the first time when we went to the hologram show. It was fantastic. I recommend you go and check it out. I am sure you will like it," said Hadiana.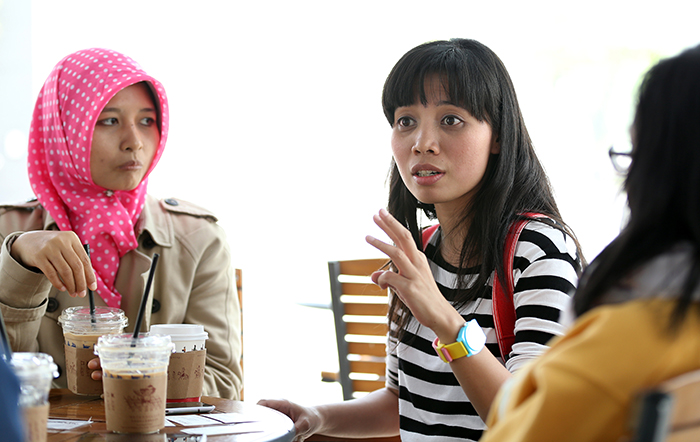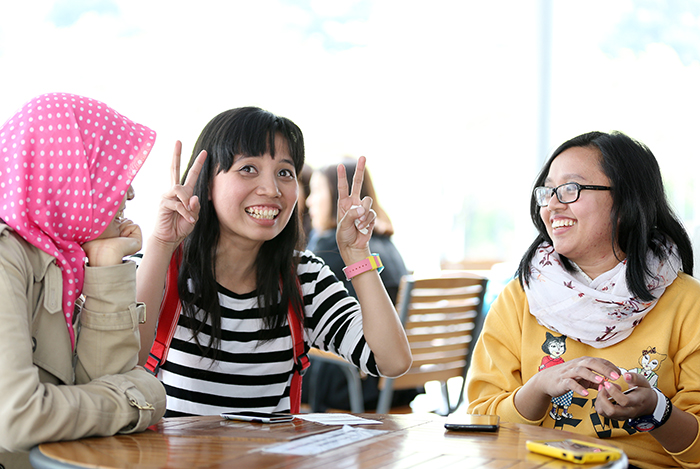 When asked, "What do you most want to do on your trip here this time," Arniza replied that, "As this is my first time in Korea, I'd just like to explore the city of Seoul and wander about here and there."

Hadiana responded by saying that, "Korea is a great place for single travelers, as it has really convenient transportation."

"To be honest, the first time I was here, I had some difficulties figuring out directions, as there weren't a lot of English directions available for non-Korean travelers in the bus or subway, so I got lost a bit. Now, however, it has all changed and I can find English signs or even hear announcements in English on the bus or subway."

They said they would travel throughout Seoul and, if possible, to other regions during their stay here, hopefully gaining new experiences and making new friends.

Despite expensive airfare and the real headache of attaining a tourist visa, they were confident that they would come again. They have genuinely fallen in love with Korea.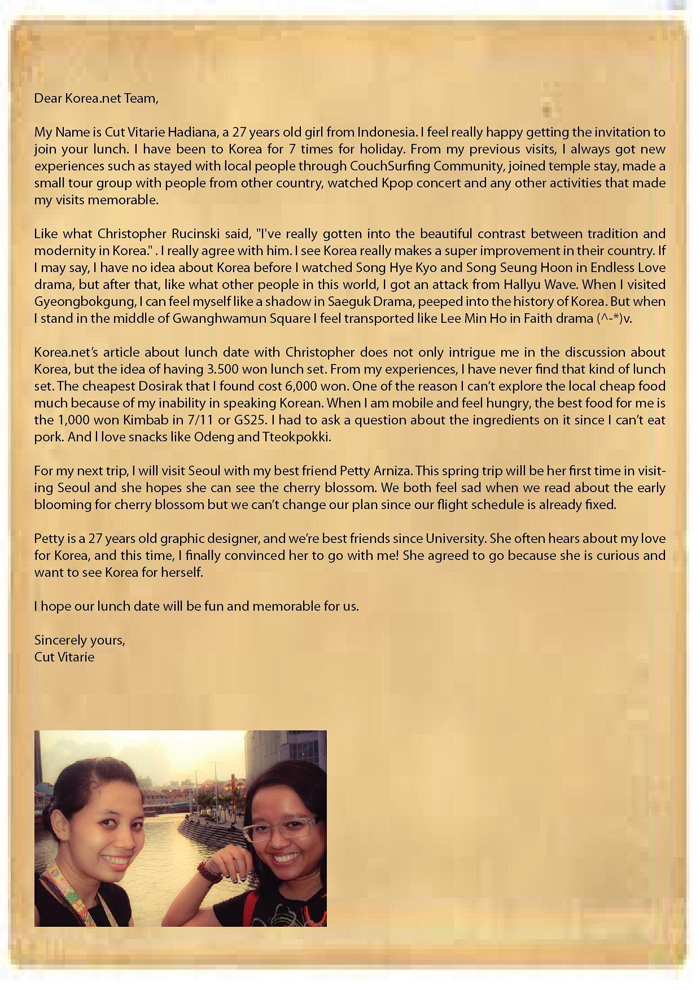 By Sohn JiAe, Lee Jeong-rok
Korea.net Staff Writers
jiae5853@korea.kr
[Source; korea.net]