A girl named Yujin wakes up one cold winter night and looks out the window. She goes to bed again, but then gets up and begins cleaning her room. Then she finds a small "dust kid" sitting on a matchbox under her bed.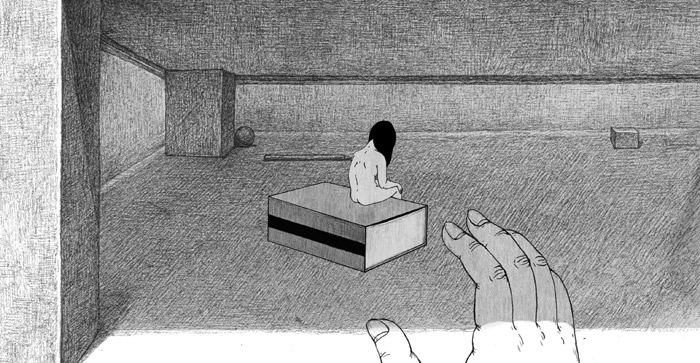 This is the introduction to "Dust Kid," a picture book by Joung Yumi, winner of the 2014 Bologna Ragazzi Award in the New Horizon category at the Bologna Children's Book Fair 2014. With the New Horizons category, the Bologna Ragazzi Award recognizes children's literature graphic and editorial design from the non-Western world that has high literary value.
"Dust Kid" is a picture book based on an animated short film of the same name that Joung made in 2009. The short was invited to the Directors' Fortnight at the Cannes Film Festival in 2009. Director Park Chan-wook of "Old Boy" (2003) praised the short film by saying, "Dust Kid' is an important work that lifted up a notch the level of Korean animation."
The book has no text. Joung uses her artwork to show how the main character, Yujin, finds and accepts the small dust kid all over the house, such as on the dressing table, under the dining table, in the bathroom and even inside a tea cup while cleaning. Yujin tries to approach the miniature human, but it keeps its distance from her, even though it knows it's already been spotted. After finishing cleaning, Yujin sets the table to eat and finds the dust kid eating rice inside the bowl. She then scoops up another bowl of rice for herself, to share a meal with the kid.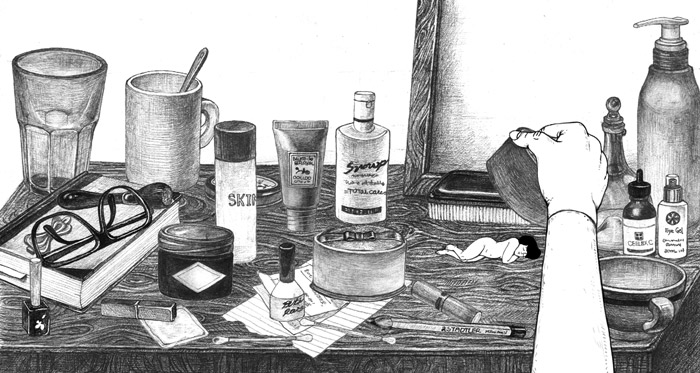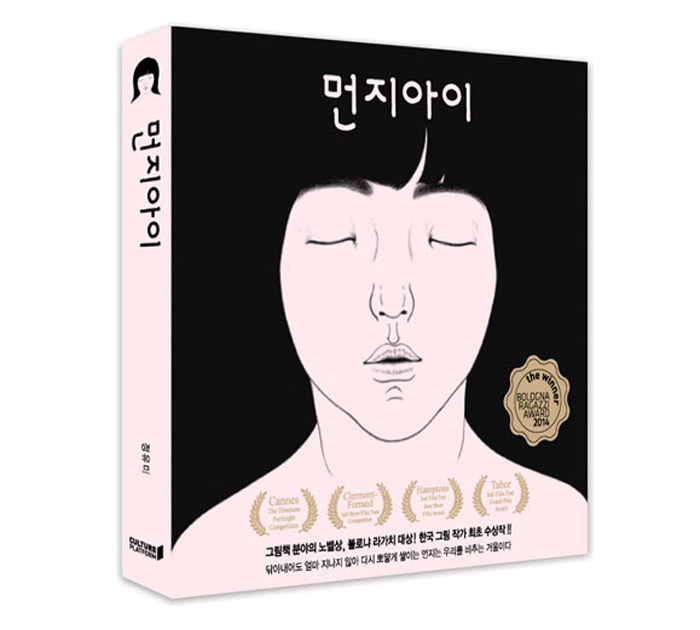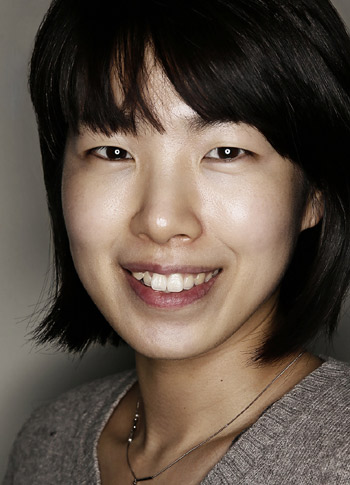 The jury at the international book festival said, "This powerful, silent visual sequence is in the form of a book but is from an animated film. Its compelling black and white imagery quietly tells the story of an apparently ordinary life in intense detail. Tiny moments in time are described across numerous pages, slowed down to almost a standstill, with scrupulous attention to the most apparently insignificant everyday objects." The jury also said this book is, "a work of exceptional creative ambition."
Dubbed as the "Nobel Prize of picture books," the Bologna Ragazzi Award, established in 1966, is recognized as the highest award in the world of children's books. Every year, the international jury at the book fair gives out awards in four categories: fiction, non-fiction, new horizons and
opera prima
. This is the first time that a Korean author has received the award for both writing and drawing, and the third time that a Korean publishers' picture book has been awarded the top prize. In 2011, Korean author Kim Hee-Kyung's children's book "A House of the Mind: Maum," published by Changbi Publishers, received the award in the non-fiction category. It was written by Kim and illustrated by Iwona Chmielewska of Poland. In 2013, Changbi Publishers' "Eyes," written and drawn by Iwona Chmielewska, received the award in the fiction category.
Korea.net recently had an email interview with Joung, who had just returned to Korea after receiving her Bologna Ragazzi Award in Italy, to talk about her book and her future plans.
- How did you feel when you received the Bologna Ragazzi Award, even though you weren't really aware of the award when you created the book?
I didn't expect it at all. As an author, I am happy that people can empathize with my work, which gives me great power. I would be very happy if I could make more artistic works and meet with the readers through my art.

- Why does the dust kid keep its distance from Yujin? Why does it avoid her?
I guess it might have thought the main character wouldn't like it. She didn't wipe it away while cleaning, so it was able to stay with her, rather than hide somewhere. In the end, Yujin and the kid eat together, which means the girl finally accepts the existence of the dust kid. So I guess the kid won't avoid her in the future.

- From a child's point of view, they might be curious as to why the dust kid is always naked. Can you explain that?
I think clothes contain and express many aspects of the person who wears them. In "Dust Kid," I tried to express the existence of the main character herself by excluding other symbolic elements.

- In the final pages of the book, the main character finds a dust kid eating rice inside the bowl, and so she scoops up another bowl of rice so they can eat together. What was your intent with this part?
People have many sides to them. They can easily accept some of them, but not all of their inner aspects. I thought that we also need to acknowledge and love all sides of ourselves, even if it's hard to accept. In that scene, the main character and a dust kid eat together. I tried to express symbolically how the girl finally accepts and co-exists with her 'inner sides,' even though she finds it hard to acknowledge.

- The dust kids all look alike, and all look like the main character. Are they another self of the girl? Or of you?
I set up the dust kid as an alternate ego of the girl. I personified her inner characteristics, which some people can find hard to accept, as the dust kids.

- Where did you get the motivation to create "Dust Kid"?
I came up with the idea when cleaning as part of my daily routine. I found the process of cleaning quite interesting. Cleaning is a physical activity, but it also largely affects you psychologically. Cleaning is a simple, physical activity, but this physical activity creates a psychological change after doing it. Through that direct, personal experience, I thought that cleaning holds an inevitably important meaning in life.

- All the illustrations in the book are drawn in black and white with a pencil. Is there any special reason that you stuck with pencil?
I find interest in detailed black and white pencil drawings. Pencil drawings show realistic images. I thought the process of drawing with a pencil creates a unique subtlety and delicacy.

- What made you enter children's animation and children's literature?
I liked picture books when I was a kid. I still like them. So I naturally made a picture book when I made the "Dust Kid" animated short. This book is categorized as a picture essay or graphic novel. I am happy to meet children, as this book is considered children's literature.

- What animated movies or children's books impressed you, if any?
I loved "Where the Wild Things Are." The way in which the book was made into a film also intrigued me. The book contains a simple story, but when it was made into a film, it became an extended story with more characters. I found it interesting how a small idea became a bountiful story.

- What do you want to write about in your next book?
I'm currently working on a short animation called "The Bather." In this film, the main character meets his inner-self and loves it. When I finish that, I plan to make an illustrated book of another short animated film, "Date Play" (unofficial translation), which I made last year. I am also planning various other illustrated books.

- What do you want to do in the future?
I want to make artwork about the questions people face in life and how they find the answers. I hope people can share something precious in the process of finding their answers, and share their findings with others.

- What does children's literature and animation mean to you?
I always find it interesting to see how children play and act. The process of their play, using their imagination, inspires my creative work. So the possibility of communicating with children will guide me in an important direction in my future works.


By Yoon Sojung
Korea.net Staff Writer
arete@korea.kr
[Source: korea.net]