International Peace and Cooperation
Since the Republic of Korea joined the United Nations in 1991, it has played an ever more active role in the efforts to address a whole range of global issues, acting both as a regional facilitator and an influential international actor.
In 1996-1997, Korea served as a non-permanent member of the Security Council. During this period, it played an important role in advocating the protection of civilians caught up in armed conflicts. Korea held the Presidency of the 56th Session of the General Assembly in 2001, and in 2006, former Korean Foreign Minister Ban Ki-moon was elected the 8th Secretary-General of the United Nations.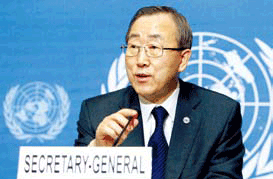 U.N. Secretary-General, Ban Ki-moon
Ban Ki-moon of the Republic of Korea, the eighth Secretary-General of the United Nations, brings to his post 37 years of service in government and on the global stage. At the time of his election as Secretary-General, Mr. Ban was his country's Minister of Foreign Affairs and Trade.
"My heart is overflowing with gratitude toward my country and people who have sent me here to serve.
It has been a long journey from my youth in war-torn and destitute Korea to this rostrum and these awesome responsibilities. I could make the journey because the UN was with my people in our darkest days. It gave us hope and sustenance, security and dignity. It showed us a better way. So I feel at home today, however many miles and years I have traveled."
Quote from Secretary-General Ban's acceptance speech before the United Nations
Peacekeeping operations have emerged as a vital and powerful means for the UN to help countries torn apart by armed conflict. Fully aware of the importance of international peace and security in light of its own experience of post-war nation-building, Korea has actively participated in UN peacekeeping operations in 11 missions including those in Lebanon and Haiti as well as in cease-fire monitoring and confidence-building efforts. Korea has also contributed to initiatives to assist local communities' attempts to recover through the provision of medical services and assistance with local construction projects.
As a strong advocate of human rights, Korea upholds the universal values of human rights as a centerpiece of its policy goals. Korea, which has been a member of the Human Rights Council since its establishment in June 2006, has actively engaged in the activities of the Council, cooperating with the international community in advancing human rights and responding to serious human rights situations in a timely and efficient manner. Furthermore, as a state party to seven core international human rights conventions, Korea is fully committed to the efforts of the international community to promote and protect human rights.
Moreover, firmly committed to promoting democracy, Korea has actively participated in various initiatives at the global and regional levels, including the Community of Democracies, the Bali Democracy Forum, and the Asia-Pacific Democracy Partnership. In December 2010, President Lee Myung-bak participated in the 3rd Bali Democracy Forum, as a co -chair with Susilo Bambang Yudhoyono, President of Indonesia, and introduced Korea's experiences of democratization, emphasizing the significance of democracy in building peace and stability.
Korea has also been an active player in global efforts to strengthen the disarmament and non-proliferation regimes. The annual international conference co-hosted by Korea and the UN Office for Disarmament Affairs since 2002, the so-called "Jeju Process," has provided a meaningful platform for promoting discussions on various themes in the field of disarmament and non-proliferation. Korea's joining the Proliferation Security Initiative (PSI) in May 2009 stands as another manifestation of its willingness to take part in the global efforts to prevent the proliferation of weapons of mass destruction (WMD) and their means of delivery. Korea has participated in PSI activities and events since then and will continue to contribute to strengthening the PSI counter-proliferation networks.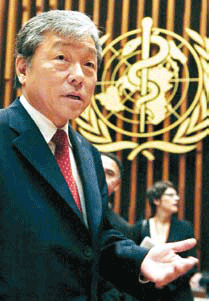 The late Dr. Lee Jong-wook (1945~2006)
Prior to his work as WHO Director-General, Dr. Lee was a world leader in the fight against two of the greatest challenges to international health and development - tuberculosis, and vaccine preventable diseases of children.
As part of efforts to contribute to reconciliation and cooperation at the global level, Korea has fully committed itself to cultural exchanges with foreign countries. In order to deepen awareness and understanding of Korean art and culture abroad, the Korea Foundation, established in 1991, supports overseas Korean Studies programs as well as numerous academic conferences and a vast array of international cultural programs.
Since the G20 was launched in November 2008 in the midst of the unprecedented global financial and economic crisis, Korea has played an active part in it and supported its role as the premier forum for international economic cooperation. President Lee suggested the lifting of trade and investment restrictions to prevent the rise of protectionism, which was agreed at the Washington Summit and reaffirmed at the London Summit in April 2009. Having weathered the Asian financial crisis in the late 1990s, Korea helped provide the direction in which the G20 should move to prevent a recurrence of such crises in the future. As a result, Seoul was chosen as the host city for the G20 Summit in November 2010, which reflects the international community's recognition of Korea's efforts and global leadership.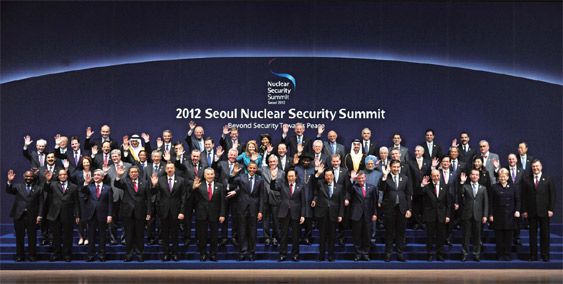 [Source: korea.net]