Every society has its own etiquette to greet people, and Korea with its long history and tradition is no exception to that rule. Today, much of traditional etiquette that remains is usually associated with celebrating family occasions or special holidays and is much simplified in form.

Among the traditional etiquettes that continues to be practiced in Korea, there is "jeol" an act of bowing down on knees.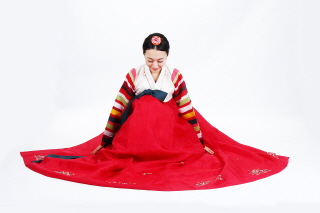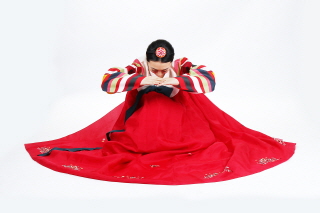 It is a Korean way of acknowledging families and colleagues, classified into four kinds.
First there is "ban-jeol" meaning "half-bow." It is an elder's blowing response toward young ones or those in lower status. Then there's "pyong-jeol" meaning "ordinary bow." Such is a light bow exchanged between friends and others similar in status.
"Keun-jeol" meaning "deep bow" which is conducted during birthdays and banquets, do not require elders to respond to junior's bows. A very deep blow meaning "bae-rye" takes place during four most important rituals in life, the coming-of-age ceremony, marriage, funeral and ancestral rites.
Today, jeol is not necessarily practiced in daily basis, but comes in handy when visiting Korean houses during special holidays and family occasions. In fact, while daily light jeols are hardly practiced, deep bows managed to go on due to this reason.
The deep bowing that takes place on "Seollal," or Lunar New Year's day, is called "sebae" and is usually conducted with the whole extended family present. They would all gather in one place to pay their respects to the eldest family members, starting with the first son and continuing to the other siblings.
A man must fold his two hands together - left hand covering right hand - kneeling and bringing his head all the way down to the ground for a deep bow, with his elbows out away from the body. When bowing down, the left leg must bend first.
In the woman's case the right hand folds on top of the left, with hands and elbows raised to shoulder level. With eyes cast downward, she must sit with her left leg bending first, followed by her right and bow only halfway down. In return, the elders give a blessing or in the case of little children, some pocket money or a gift.
It was a custom for man to make a deep bow at least once and woman at least twice. At the funeral, however, the bowing should be twice the number of regular bows
In the funeral, the traditional custom was to give a deep bow and "gok," an exaggerated cry or wail to fit the mood. Gok is no longer necessary these days. One can either choose some chrysanthemums or put them in front of the portrait of the deceased or light one of the incense sticks.
The bowing in the funeral takes place two and half times. To the representative of the bereaved family, one can make another deep bow and a half. On the other hand, depending on one's religion, such bowing is often replaced by a silent prayer with one's head bowed to show respect. There's also a small gift box where one can leave an envelope of condolence money.
Another kind of bow takes place upon a visit to the ancestral grave, which also includes two full bows. In a ritual known as "seongmyo," the descendants come to check on the family grave, cut grass and clean up the place. After an ancestral ritual, the whole family will gather around for the bowing, just like sebae. This is usually conducted during the national holidays of Seollal and Chuseok.