Koreans celebrate New Year twice a year, one at the December 31 countdown and the other on the Lunar New Year holiday. Seollal, the Korean Lunar New Year, falls on the 15th day of the eighth month of the lunar calendar -- some time in late January to late February in the solar calendar. It is one of the two biggest holidays in Korea, alongside Chuseok, the full-moon harvest festival. The days right before and after Seollal are also part of this three-day national holiday.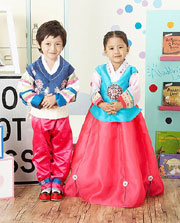 Early in the morning on Seollal, the entire family gathers to observe an ancestral rite called charye, which is the main tradition of the holiday. An offering of food is sacrificed for ancestors, and family members pay their respects by bowing twice.
After charye, the young children of the family dress in Hanbok or their best clothes and make a deep bow known as sebae to their elders -- first to their grandparents and continuing down according to age -- as a New Year's greeting. Their elders, in return, reward them with a gift of money and words of wisdom.
On Seollal, the family members offer up tteokguk (rice-cake soup), which signifies the advancing in age when it is eaten at the start of the Lunar New Year. Korean custom calls for starting the New Year with a hearty bowl of rice cake soup to bring luck as well.
On Seollal, Koreans play various traditional games such as yut (a board game where four sticks are thrown instead of dice), neolttwigi (see-sawing), yeonnaligi (kite-flying), and tuho (throwing sticks into a barrel). These days, people can play those games at folk villages or amusement parks. In modern times, Koreans also play Go-Stop, a Korean card game played with Japanese Hanafuda cards.
Yut Nori is a traditional Korean game played on Seollal (photo courtesy of the National Folk Museum of Korea).
Seollal is also a good time for expats to enjoy themselves shoulder to shoulder with their Korean friends and neighbors.
To discover more about Seollal, read the feature stories and learn about different ways of enjoying the Korean traditional holiday.