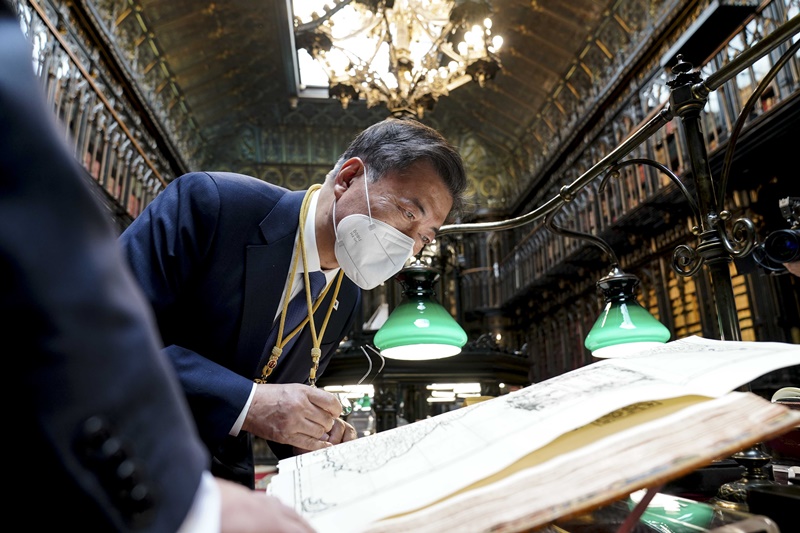 President Moon Jae-in, on a state visit to Spain, on June 16 looks at the Royal Map of Korea at the Spanish Senate Library after giving a speech to the Spanish senate and lower house in Madrid.
President Moon Jae-in on June 16 visited the Spanish Senate Library in Madrid to see the 18th-century Royal Map of Korea and receive a briefing on it.
On a state visit of Spain, he visited the library after delivering a speech to the Spanish senate and lower house.
The map is part of the 18th-century New Atlas of China by French geographer and cartographer Jean-Baptiste Bourguignon d'Anville.
The atlas is based on the Great Map of China, which shows China and its surrounding regions and uses information from another Chinese survey map at the time.
The map is considered the oldest surviving map of Korea made by a Westerner.
The names in the map are based on their Chinese pronunciations. d'Anville got confused between Usando (Dokdo's former name) and Cheonsando Island and called it "Tchian Chan Tao."
Cheong Wa Dae said the map clearly shows that the islands of Usando and Ulleungdo are both Korean territories.
Chief librarian Angel Gonzalez gave a briefing to the president on the map of the Korean Peninsula in the 1730s, saying it could be "the most touching record" for Koreans.
Cheong Wa Dae Spokesperson Park Kyung-mee quoted President Moon as saying the map could be an invaluable historical record showing that Dokdo is Korean territory and thanked Gonzalez for showing him "priceless" data.
Korea.net