The recent revival of interest in modernized traditional Korean houses (called hanok) among architectural designers and house buyers from across Korea has also helped attract numerous tourists to Korea's old villages and districts where they can experience the traditional Korean lifestyle in an authentic environment. Two of the most popular destinations for enthusiasts are Bukchon Hanok Village in Seoul and Jeonju Hanok Village in Jeonju.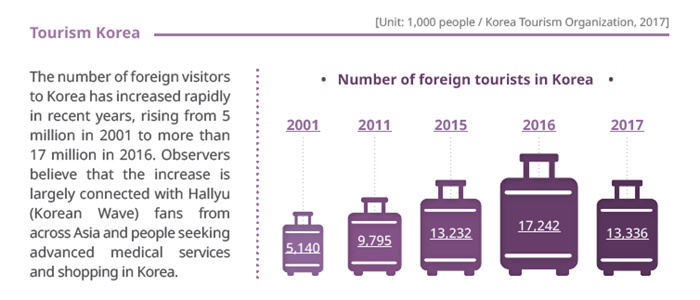 Bukchon Hanok Village in Seoul refers to a residential area located north of the Jongno and Cheonggyecheon Stream area in downtown Seoul—hence the name—once occupied by wealthy aristocratic families during the Joseon Period. The area has become one of Seoul's main tourist attractions, largely because of the old-world atmosphere and the well-preserved traditional houses and the narrow winding alleys linking them. Flanked by the two main Royal Palaces of Joseon, Gyeongbokgung and Changdeokgung, with Inwangsan and Bukhansan Mountains rising directly behind them, and modern skyscrapers in the south, the district exhibits a unique harmony between Seoul's present and past.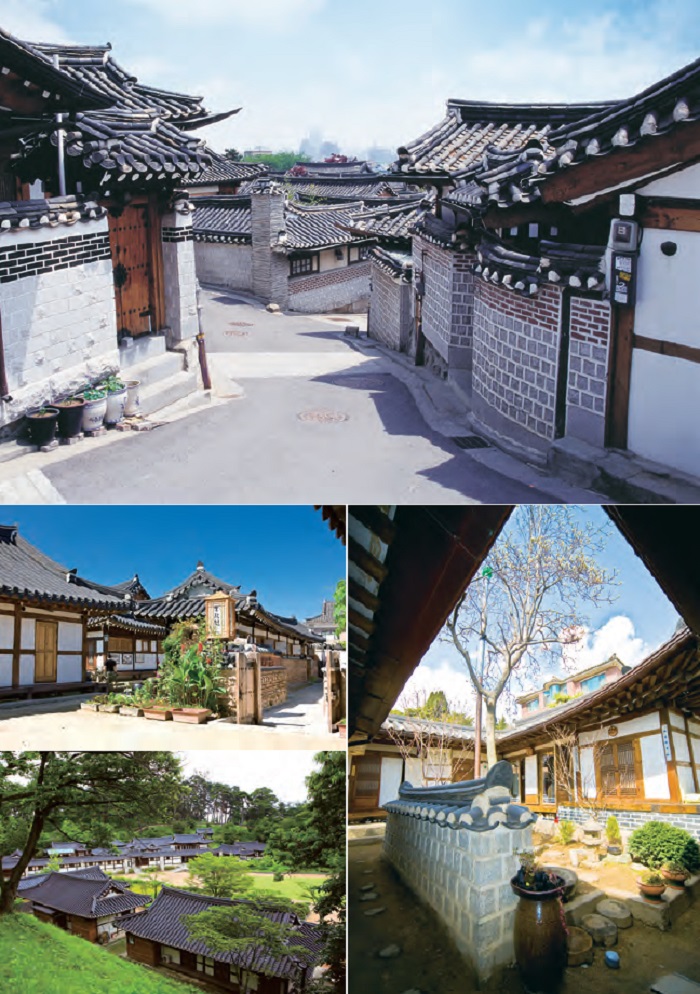 Clockwise from top: Bukchon Hanok Village, Bukchon guesthouse, Seongyojang House in Gangneung, Jeonju Hanok Village
The largest Hanok district in Korea and one of the most popular tourist destinations among visitors is that in Jeonju. The Jeonju Hanok Village consists of about 700 traditional tile-roofed houses, some of which have been turned into guesthouses, restaurants, teahouses and workshops, providing visitors with opportunities to experience the local cultural heritage. The district also contains some of the city's most important heritage sites such as Gyeonggijeon Shrine, which houses the official portrait of King Taejo, founder of the Joseon Dynasty, a local Confucian school (hyanggyo), and Omokdae Terrace, which commands a great view of the entire district.

There are but a few mansion houses dating from the Joseon Period across Korea, of which Seongyojang in Gangneung is particularly famous for its exquisite, fully preserved 300-year-old buildings and well-tended traditional garden. Built by a minor member of Joseon royalty and still used as a dwelling house by one of his descendants, Seongyojang is regarded as a fine example of a dwelling of the wealthy ruling class of Joseon. It also consists of rooms such as an inner quarter (anchae) for women, detached outer quarter (sarangchae) for guest receptions, servants' quarter (haengnangchae) for servants and separate rooms (byeoldang), as well as an artificial pond at the entrance and a pavilion called Hwallaejeong.
Korea.net