Originated in Korea, Taekwondo is a martial art of self-defence in which the competitors use both their hands and feet. In ancient times, Koreans practiced Taekwondo as a mandatory preparation for war.

With the passage of time, Taekwondo gradually became a folk sport. In 1971, it was designated as Korea's national sport. In 1973, the 1st World Taekwondo Championship were held in Seoul and in 1980, the IOC adopted it as an official event of the Olympic Games. It has grown into an international sport with around 100 million participants globally.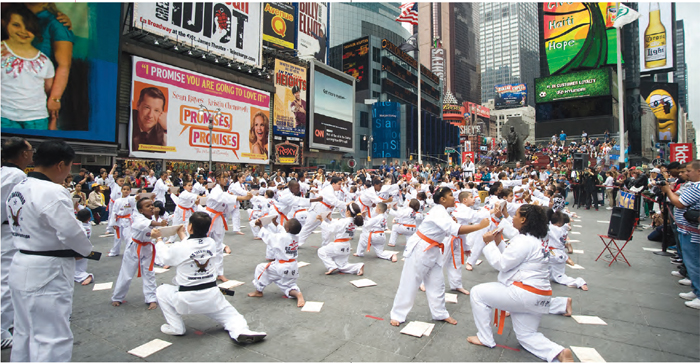 A Taekwondo demonstration in Times Square, New York
Muju, Jeollabuk-do Province, where Taekwondowon was established, hosted the 2017 Muju WTF World Taekwondo Championships.
Taekwondo stresses the importance of spiritual discipline and for this reason it enjoys popularity among both men and women. The South Korean government assists with the dispatching of Taekwondo masters worldwide. Active UN Peacekeeping Forces teach Taekwondo to local residents in disputed territories, where they are stationed. In many parts of the world, Taekwondo is viewed as a symbol of South Korea. As for its educational effects associated with spiritual discipline and tenacity, Taekwondo is emerging as an option for the treatment of young people suffering from addictions.
Korea.net