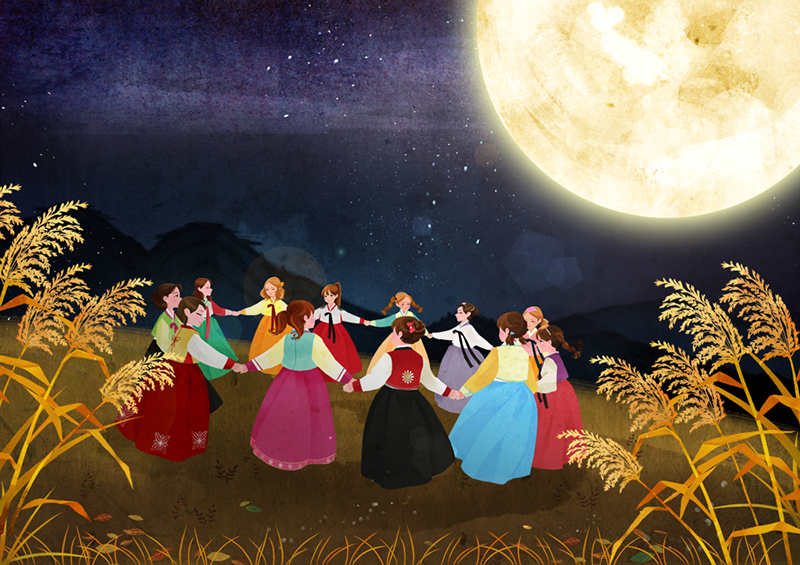 The customs observed during Chuseok (Full Moon Harvest) have changed over time.
Chuseok (Full Moon Harvest) is observed on Aug. 15 of the lunar year as one of the two biggest holidays in Korea. Though families on this holiday traditionally gather to hold ancestral rites and play traditional games, the passage of time and social trends have both changed and diversified the ways people spend Chuseok.

One of the more striking changes in Chuseok customs can be seen in the observance of charye (ancestral rites), which involves heavy food preparation. Nowadays, more Koreans are purchasing a variety of pre-cooked food to perform the rituals such as soup, side dishes, pajeon (scallion pancakes), songpyeon (rice cakes) and japchae (stir-fried glass noodles with vegetables).

An increasingly popular practice is to order food needed for charye from delivery services based on taste and heating the food before performing the ritual. Delivered food can cost less in money and time than cooking or purchasing it through offline sources.

For decades, Koreans have ridden cars or trains for hours to reach their hometowns during the Chuseok holidays. Getting train tickets around this time is extremely difficult, and highways will likely be jammed again this year during the holiday.

More families, however, are opting to travel abroad instead of visiting relatives, making flight reservations months in advance to go overseas during Chuseok. Those who normally find it hard to get away from their work schedules use the holiday period as an opportunity to go on a late summer vacation.

The types of gift sets for year's Chuseok differ from last year's selection, as this year's holiday comes relatively earlier (Sept. 13) than last year's (Sept. 24).

In addition to the mainstay gift sets of premium apples and pears, imported apple mangoes and shine muscat grapes are growingly popular. Single-serving packages of meat and seafood are also readily available amid the rising number of single-person households.

Given its tense trade spat with Japan, Korea is seeing a wide boycott of Japanese products, leading to lower demand for Japan-related gifts.

The rising popularity of apps such as Hangawi Bongtu (Chuseok Envelope) and online gift certificates is leading to more people using them to make payments or give Chuseok gift money.

While many families still gather and eat the Chuseok staple songpyeon, others choose to spend the holiday in less traditional ways. Regardless of how one spends the holiday, Chuseok gives the nation a much needed break to spend with family or take a rest from the hustle and bustle of modern life.
Korea.net