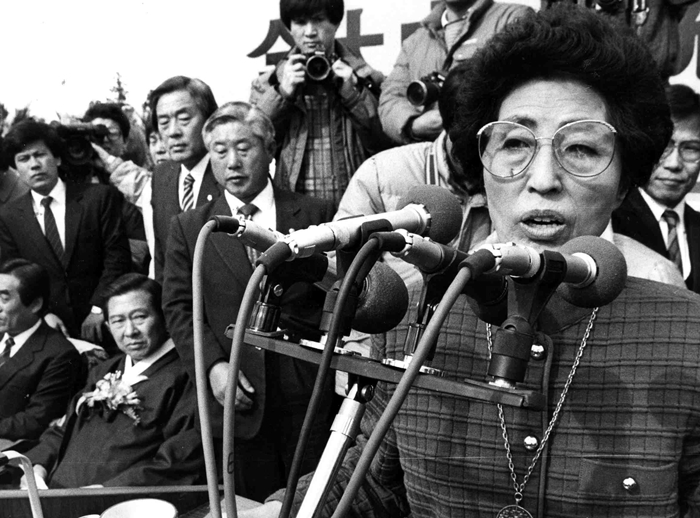 Former first lady Lee Hee-ho in December 1987 speaks to female voters at an election rally for her husband Kim Dae-jung on Jeju-do Island. (Yonhap News)
Former first lady Lee Hee-ho, part of Korea's first generation of women's rights activists and wife of the late President Kim Dae-jung, died on June 10. She was 96.

President Moon Jae-in, now on a state visit to Finland, politicians and other dignitaries sent their condolences over her death. On his Facebook page, the president wrote, "Today we bade farewell to a great person who devoted her life to the women's movement. May she rest in peace."

A public funeral is set for Friday. She will be buried at Seoul National Cemetery.

Lee was born on Sept. 21, 1922, in Seoul and attended Ewha Girls' High School. Graduating from Seoul National University with a bachelor's in education, she later went to the U.S. state of Tennessee to attend Lambuth University and Scarritt College for Christian Workers. She earned a master's in sociology from Scarritt.

After returning to Korea, she became a women's rights activist and founded several organizations to advance her cause. She also held a senior position at the Young Women's Christian Association (YWCA) in Korea for several years.

In 1962, Lee married politician Kim Dae-jung. Together, they fought the authoritarian government, demanding human rights and democracy. Following his 1997 election as president, she became an active first lady and accompanied her husband to North Korea for the historic 2000 inter-Korean summit.

Halfway through Kim's presidency in 2001, Lee played an instrumental role in setting up the Ministry of Gender Equality and Family, the first of its kind in Korea, after revisions were made to the Government Organization Act.

From 2009, Lee headed the Kim Dae-jung Peace Center, which was founded by her late husband to promote peace and constructive inter-Korean relations. In 2011, she traveled to the North to attend the funeral of its leader Kim Jong Il. In 2015, she led another delegation to Pyeongyang on the invitation of Kim's son and successor, Kim Jong Un.

In an interview, Lee once said, "With a hand on my heart, I believe I did my best, keeping a clear conscience. I hope to be remembered as an activist for women's rights and democracy."
Korea.net