South Korea has long been a culturally homogeneous society, but the number of migrant workers and foreign students has increased rapidly since the end of the 20th century. As of 2014, the number of foreign-born people in the country stands at 1.57 million, with the number of foreign-born people married to South Koreans amounting to 240,000. The number of migrant workers in the country stands at 850,000. The country is turning into a multicultural society.

Ethnic Koreans with Chinese citizenship account for the greatest proportion of foreign nationals living in the country. Recently, the number of multicultural households has increased dramatically to 230,000, largely as a result of the high number of marriages between Koreans and foreigners. The government launched an office dedicated to providing support for foreign citizens' social activities within the country and enacted the Multicultural Families Support Act. Under the said Act, multicultural family support centers (www.liveinkorea.kr) have been opened in 200 places around the country to provide the following services: Korean language education sessions designed to help foreigners adapt to life in Korea; psychological counseling; events intended to celebrate the festivities of other countries; and job seeking opportunities.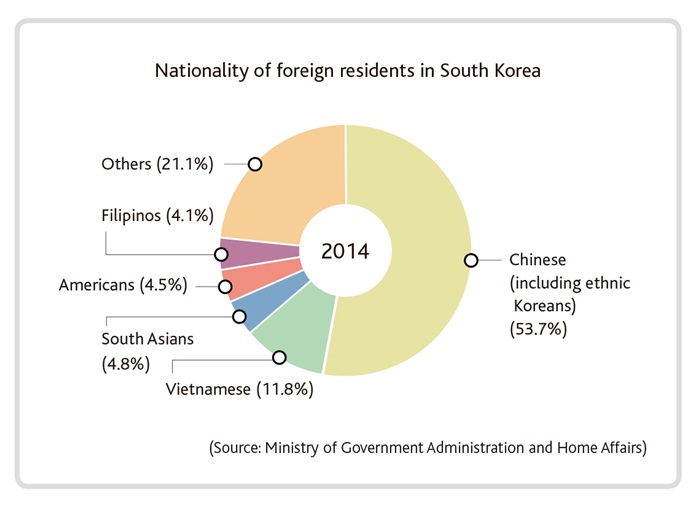 The government is taking diverse measures in recognition of foreign cultures and making efforts to avoid social problems that may result due to the inflow of foreign cultures. One such measure consists in the provision of support to transform multicultural villages into tourist destinations.

Chinatown in Seollin-dong in Incheon is perhaps the most representative example of a unique foreign culture in Korea. The history of the place began when ethnic Chinese settled there, taking advantage of its geographical proximity to China, in the late 19th century. Nowadays, the area serves as a forward base for the country's exchanges with China, and has emerged as a new tourist destination for enthusiasts of history and culture.

There is a Special Multicultural Zone in Wongok-dong, Ansan, Gyeonggi-do. People from China, India and Pakistan living here can purchase specialties of their home countries in the zone. There is a Japanese village in Ichon-dong, Yongsan-gu, Seoul; a Muslim village near the mosque in Itaewon-dong, Yongsan-gu, Seoul; a French village (Seorae Village) in Banpo-dong, Gangnamgu, Seoul; a Vietnamese town is in Wangsimni, Seoul; and a Nepalese town in Changsin-dong, Seoul.

Foreigners are also starting to take a more prominent role in their adopted country. For example, Jasmine Lee is a Filipina- Korean who is currently serving as a member of the Gender Equality and Family Committee of the 19th National Assembly (May 2012 – May 2016). She is known for her efforts to protect the welfare and advance the rights of people in multicultural households.

As of November 2013, a total of fifty-six foreign-born Koreans from thirteen countries are serving as public officials with the central or local governments. Chinese-Korean Kim Mi-hwa, an official of Changwon City, is one of them. The foreign-born celebrities we frequently see in local TV programs include Robert Holley (American-Korean) and Sam Hammington (an Australian). All things considered, the recent foreign arrivals are integrating well into South Korean society, and multiculturalism is bringing many benefits: there is every indication that this harmonious coexistence of diverse cultures will continue to flourish.