A group of Korea fans recently gathered in Seoul from around the globe to show their passion and love for Korea.
They are the winners of the "Fall in Love With Korea" contest, the 2014 Global Contents Annual Event jointly run by the Korean Culture and Information Service (KOCIS), part of the Ministry of Culture, Sports and Tourism, and KBS World, a broadcaster. The event is held twice per year and winners are chosen from across three categories: photography, video and online comic strips. The winners were invited to Korea on December 25 and given the chance to learn about various aspects of Korean society over four days. They all agreed that it is amazing and were all thankful to be able to visit Korea and experience the nation first-hand.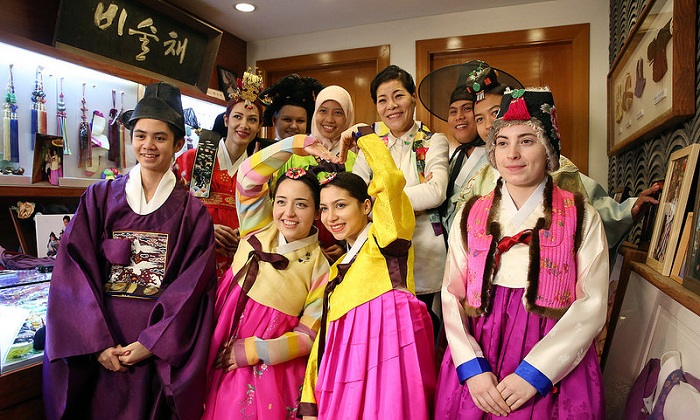 Competitors were given the mission of telling their own stories about how they came to develop a love for Korea -- whether it be through K-pop, soap operas, food or something else -- and to tell the story using one of the three media categories: video, photography or comic strips. By the second round of the event, a total of 4,272 entries were submitted from 117 countries. Among them were a number of works that revealed the applicants' extensive knowledge of Korean pop culture that left many of the jurors speechless. The final winners of the two competitions, held in the first and second half of the year, were invited to Korea on December 25 and given the chance to experience first-hand the nation's traditional attire and music, history, food, and visited some popular travel sites, too.
On December 25, the group toured central Seoul, making stops at Myeongdong, Hongdae and Namsan Mountain to experience Christmas in the capital. On day two, December 26, they visited Park SulNyeo's Hanbok shop to try on the traditional garment and walked the catwalk giving an impromptu Hanbok fashion show.
Hana Fitria Navratilova from Indonesia said, "I saw my Korean friends wear Hanbok a number of times in Indonesia. It's beautiful. It doesn't fit tight and feels very comfortable." She said that she is very happy to be here experiencing first-hand everything of which she has always dreamed. In particular, she enjoyed the many unforgettable Korean dishes, including
tteokbokki
, rice cake mixed with hot chili paste,
hotteok
, fried savory pancakes stuffed with brown sugar, honey, chopped peanuts and cinnamon,
shabu shabu
, slices of meat and fresh vegetables blanched in a hot pot, and
bulgogi
, barbecued beef strips. "I would like to recommend my friends and family visit Myeongdong and Hongdae in Seoul," she added.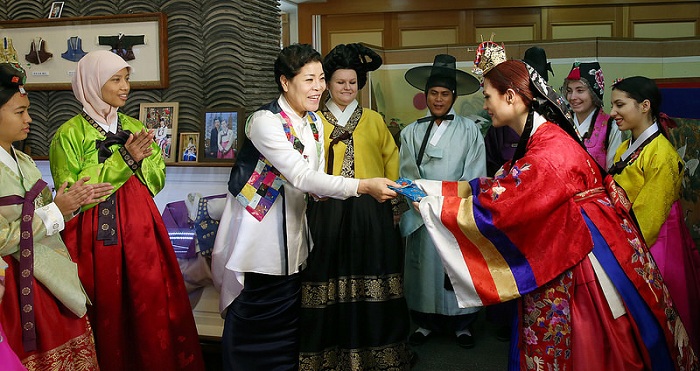 Park SulNyeo, a professional Hanbok designer, gave a present of a wallet to the person who best "fit" with their Hanbok outfit. The winner was Paria Samimi Sabet from Iran. In the contest, too, she showed her love for Hanbok, taking photographs of herself creating Hanbok clothes. "I have experience making Hanbok, but mine aren't as beautiful as this one. I am very happy to try this on and to receive this beautiful present."
Regarding her choice of Sabet, Park said, "As you can see just now, Hanbok are beautiful garments. Half of their beauty is attributed to the design and color, while the rest is left up to the person who wears it. Sabet is beautiful in the
hwarot
, a type of royal garment, even more beautiful than a Korean," Park continued.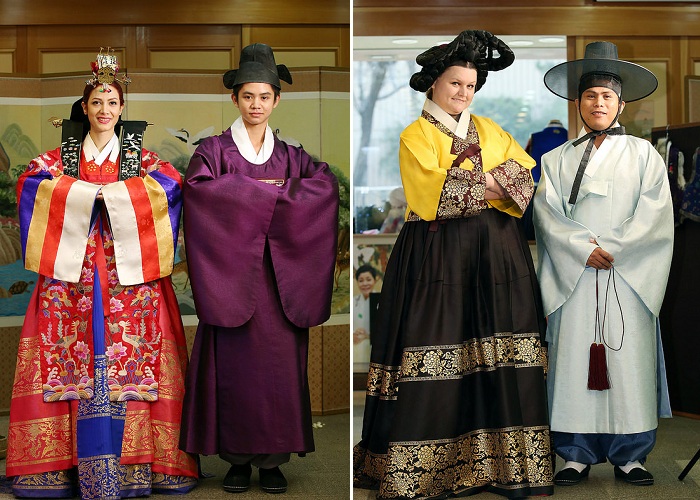 Their interest in Korea was not only limited to one specific category. Among them was Maria Jose Belen Gonzalez Vielma from Chile, who speaks Korean quite fluently. Having had an interest in Asian cultures, specifically Japan at first, since she was very young, she developed an interest in Korea, too, as she watched the soap opera "Stairway to Heaven." She is almost sick of the song "I Miss You," sung by Kim Beom-su, which was used as background music for the show.
"Currently, I have a weekly meeting with some Korean immigrants in Chile. We share conversations about various topics over lunch or dinner," said Vielma. "They speak in Korean to me even though I say something in Spanish, and I like it." Vielma produced a video about certain aspects of Korean culture and society that she learned about from the Korean immigrants.
Leire Lizarraga is a winner from Spain. She made a video with a series of clips of her drawing and talking about her life story. She explains in the video that she was bullied at school due to her shyness, but that she was able to build up her confidence after practicing taekwondo. The delicate drawing skills amazed the jurors. "It took a long time to come up with the idea and the script, as I needed to make a three-minute video, but the drawing itself took only a day," said Lizarraga.
She is a university student majoring in cinematography. Inspired by the performances put on by K-Tiger, a taekwondo demonstration team, she has developed an interest in Korean martial arts. "After practicing taekwondo, I came to have an interest in Korea and started looking at its TV shows and at music videos of pop stars." Regarding Korean society, she said, "I like Korea's hierarchical system and the attitude of people who respect older people and use honorifics for them. It's very impressive."
The winners visited outdoor markets in Seochon and the Changgyeonggung Palace in central Seoul on December 27. They visited the Oeam Maul historic village in Asan on day four to learn more about traditional folk crafts involving Hanji crafts and making
yeot
, starch syrup candy.
Click here to see the works of the event winners:
http://www.korea.net/Resources/Multimedia/UCC
By Lee Seung-ah
Photos: Jeon Han
Korea.net Staff Writers
slee27@korea.kr