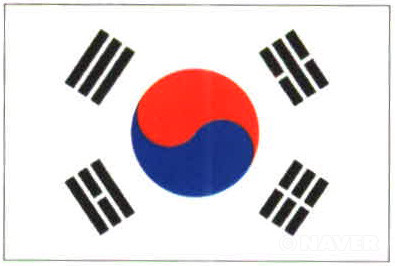 National Flag

The Korean flag is called Taegeukgi. Its design symbolizes the principles of the yin and yang in Asian philosophy. The circle in the center of the flag is divided into two equal parts. The upper red section represents the proactive cosmic forces of the yang. Conversely, the lower blue section represents the responsive cosmic forces of the yin. The two forces embody the concepts of continual movement, balance, and harmony that characterize the sphere of infinity. The circle is surrounded by four trigrams, one in each corner. Each trigram symbolizes one of the four universal elements: heaven, earth, fire, and water.
Days on which the flag is flown

January 1 :

New Year's Day

March 1 :

Independence Movement Day (Anniversary of the March 1, 1919 Independence Movement)

July 17 :

Constitution Day

August 15 :

Liberation Day

October 1 :

Armed Forces Day

October 3 :

National Foundation Day

October 9 :

Hangeul Day (Anniversary of the promulgation of the Korean alphabet in 1446)
Other days the government designates as national holidays
The flag may be flown on days local autonomous governments or provincial or city councils designate as local holidays.

The flag is flown at half-mast as a sign of mourning on Memorial Day (June 6), during periods of national mourning, and for state or public funerals.
Places Where the flag is Flown All Year Round
It is obligatory to fly the flag every day at national and local government offices, public organizations, schools and military installations.

It is recommended that the flag be flown at places where international events are held such as hotels, large buildings and parks where large crowds assemble, along the walls of government buildings and anywhere flag polls are installed.

Private homes and other places may display the national flag all year round if the residents so wish.
Raising and Lowering the Flag
The flag may be flown 24 hours a day, but if flown at night, it must be illuminated.

Schools and military units are required to fly the flag only during daylight hours.

The flag should not be flown if there is any possibility that it might be torn or damaged by wind or rain.