Dear Homestay Korea,
I arrived home yesterday after a wonderful time in Korea.
My homestay on Jeju was a very good experience.
My host, Mr. Mun, was very responsive, quickly writing emails in english with good and helpful information.

His place was not exactly easy to find so Mr. Mun provided me with the right Bus Number and he picked me up at the bus stop, so he made sure that I will find his place.
And for going back to the Airport he also helped me greatly in getting on the right bus in order to get to the airport on time.
During my stay Mr. Mun was a very friendly host taking good care of me.
Mr Mun is offering pottery classes for tourists and on one evening he showed me how to make a pottery cup (free of charge, just because he wanted to give me the experince).
We talked a lot and will stay in touch afterwards.
While the wife and children of Mr. Mun where not on Jeju (because of school in Seoul) I had plenty of opportunities to get in touch with korean culture.
Mr. Mun showed me his daily life (pottery classes, making a camp fire in the back yard, going out for korean Barbeque, etc).
And when he sometimes talked in korean (to his neighbors for example) I could get a good impression of the korean language as well.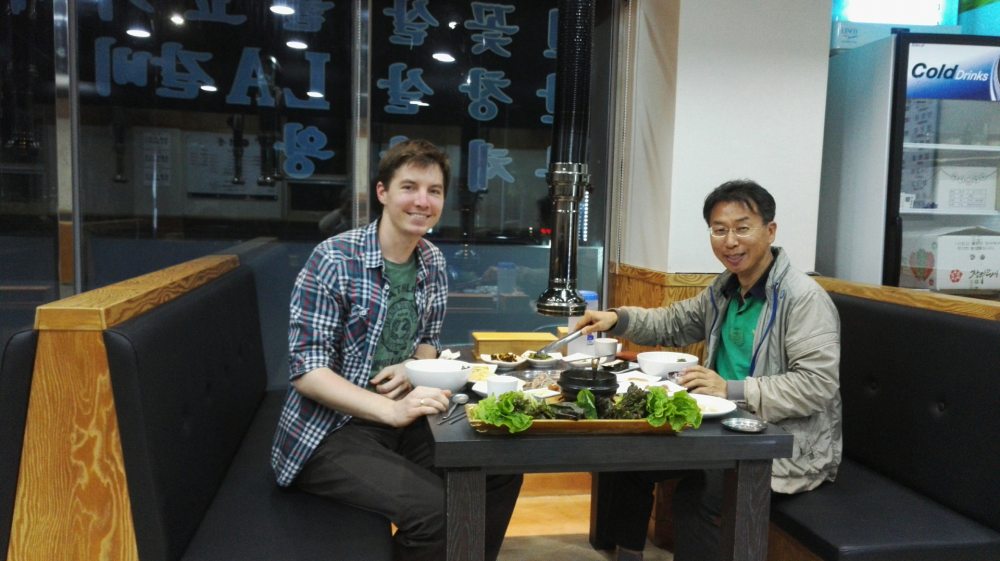 I was very satisfied with your service of providing a korean homestay place.
It was especially helpful that you have called me once in advance, so we could talk.

The information that you provided both for the homestay as well as the DMZ tour made it easy for me to find everything and plan in advance.
There have not been any inconveniences.
Many greetings from Germany,
Tobias