Performance in Brief
Non-Verbal Musical, "Ballerina who Loved a B-boy"
- The Ballerina Who Loved a B-boy is a World Class Extreme Dance Musical of Korean Orign.
- No worry about Language. Dancing tells Everything!
- Diverse audiences transcending ages, occupations, social status, nationalities, religions, and social strata have appreciated The Ballerina Who Loved a B-boy making it a global cultural icon.
The Ballerina Who Loved a B-boy, A symbol of the 21st century
- Attended by over 2.0 million audiences including several heads of states, pop stars, politicians, business tycoons, educators, social and religious leaders from all over the world for the past six years.
- Acknowledged by the United Nations Human Rights Council and numerous prominent media outlets as the symbol of this era.
- The Ballerina Who Loved a B-boy acclaimed as a blue dcean business model.
- Introduced a nes performing format to become a social issue.
<Synopsis>
A hip-hop square is formed at the vicinity of a ballet training room. Troubled by the noisy hip-hop music, Soyeon, a ballerina, approaches the B-boys to complain about the fuss. She fell in love with Seokyoon, a B-boy, however, at the first sight.
She soon discovers that ballet becomes a stumbling stone for her to win his love. Soyeon transforms herself into a break dancer and finally wins Seokyoon's love at the sacrifice of her dream to be a prima donna.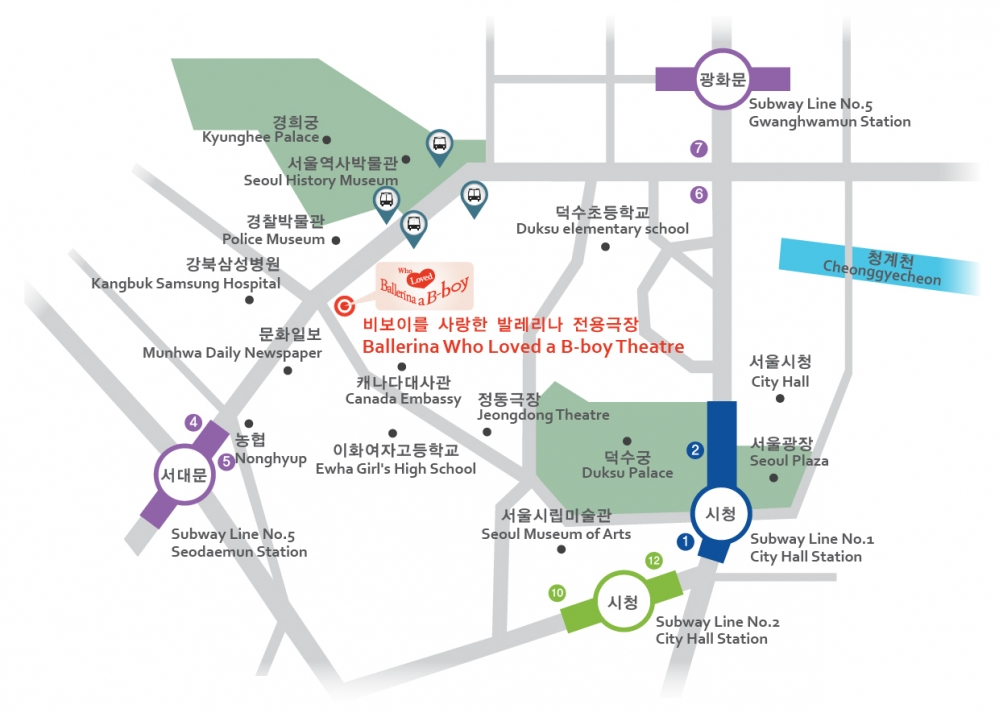 [Subway]
- Walk 150m toward Kyunghyang Newspaper Building. -> Cross the road and turn right,

go 20m forward until you Cinema Jeong Dong building.

- Walk about 350m following the stone wall of Duksu Palace toward Jeong Dong Theatre. -> Pass the Jeong Dong Theatre and go straight up for 50m.







[Bus]




take off at Seoul Museum of History

Blue

line bus : 160,161,370,260,271,273,470,471,720,704,721

Red

line bus : 631,1002,9602,9701,9709,9710

Green

line bus : 7019

Yellow

line bus : 01,02