If you are visiting Seoul, it is hard to miss Namsan and its symbolic N Seoul Tower. Situated in the center of downtown Seoul, Namsan (or Namsan Mountain) is a Seoul landmark filled with 600 years of historical sites and modern attractions.
According to a recent survey conducted by the Seoul Metropolitan Government, Namsan has been voted as the 'most attractive hotspot in Seoul among 1,849 foreigners' and the special reason for that is for the 'kissing a lover by the Locks of Love at N Seoul Tower while overlooking the cityscape.' This captures the tower's popular elements very well.
Locks of Love (photo courtesy of N Seoul Tower)


A lock for your love

These days the most popular attraction is the Locks of Love that hold a thousand different messages of love. Along the fences of the second floor observation deck, hundreds of thousands of locks hang from all sides, overwhelming the wire fence. Couples, young and old, hang locks on the fences with handwritten messages of love. The locks hanging on the fences without their keys are meant to ensure the lovers' vows to never separate. Couples can leave their keys in the Postbox of Love after lock-up. A part of the revenue from the keys collected in the postbox is donated to underprivileged adolescents. This campaign was designed to spread the spirit of love all across the nation. Hanging locks on the fences has become quite international as many tourists do the same when they come to the tower.

"I have never seen anything like it before. And the view from this deck is absolutely amazing," says Gilles Chatelier from New Caledonia who is visiting Seoul with his girlfriend.
Cityscape from the top of the tower (photo courtesy of N Seoul Tower


Breathtaking city lights

The beautiful city view can also be enjoyed from the Observatory on top of the tower. Visitors can take the elevator up to the observatory where they are provided with a panoramic view of Seoul's cityscape at a full uninterrupted 360° glance. On sunny days, the view is uninterrupted for miles, with a view taking in the vast metropolis of Seoul, the impressive Han River, and the topography of the mountains that eject into the city expanse.

"From up here, I can see parts of Seoul that I haven't been to yet," says Sam Dunning an engineer from Australia. "I can just choose and decide where to go next." The view is especially breathtaking at night, when the city lights come to life. It is one of the few places in Seoul where you can leisurely enjoy the city night lights.

A view and a bite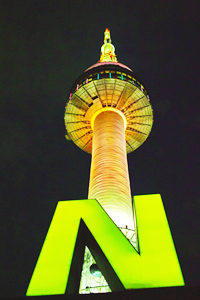 The Observatory isn't the only attraction on top of the tower. A visit to N Seoul Tower can be heightened with a meal overlooking the city. There are a few choices of restaurants to choose from: n.Grill for western style cuisine, The Place Dining, a casual French eatery and HanCook, a Korean family restaurant. HanCook is considered to be most visited by foreign visitors who seek a taste of Korea to accompany their visit.

Private cars including taxis are not permitted to enter the mountain road up to N Seoul Tower, but public buses headed for the tower are accessible from nearby subway stations. But for first time visitors, the cable car is recommended for a beautiful scenic experience. Mike Anderson from Hawaii came up to N Seoul Tower with three other friends. "The ride up to the tower was exciting and very convenient. I'm glad we didn't take the bus."



* Article from Korea Magazine (February 2012)
[Source: Korea.net]