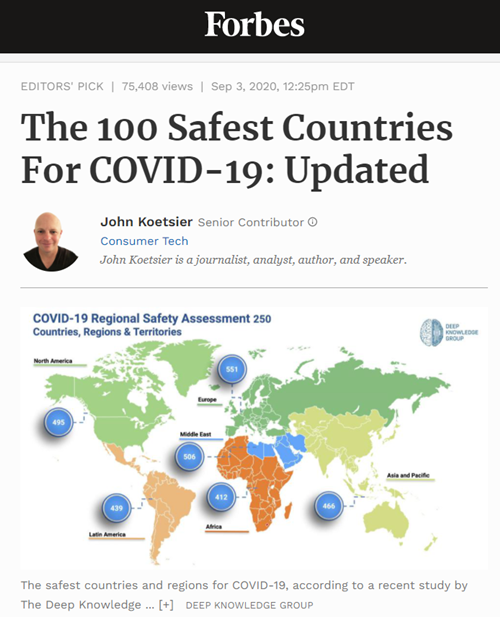 The U.S. business magazine Forbes on Sept. 3 ranked Korea third safest for COVID-19 among 100 countries. (Screen capture from Forbes)
Deputy Prime Minister and Economy and Finance Minister Hong Nam-ki, citing a Forbes survey ranking Korea the third safest for COVID-19 among 100 countries, on Sept. 16 said, "This is an opportunity to confirm Korea's outstanding quarantine capacity."
Earlier on Sept. 3, the U.S. business magazine had ranked Korea just after Germany and New Zealand in the article "The 100 Safest Countries For COVID-19: Updated" based on a report by a Hong Kong-based think tank.
The study rated safety in 250 countries based on economy, politics and health related to COVID-19 using big data spanning six categories including quarantine efficacy, 30 indexes and 140 variables.
Korea ranked tenth in June when the global rankings were first announced and thus moved up seven notches.
Sharing the nation's jump in rankings on Facebook, Minister Hong said, "COVID-19 is not just the number of confirmed patients or deaths but holds another meaning in quantifying each country's capacity to respond to COVID-19."
"Detailed analysis has confirmed that despite being one of the world's most densely populated countries, Korea has confirmed the excellence of K-quarantine through its remarkable quarantine capacity."
He added, "The higher ranking reflects civic quarantine efforts nationwide, policy toward public welfare and efforts to revive the economy."
Korea.net