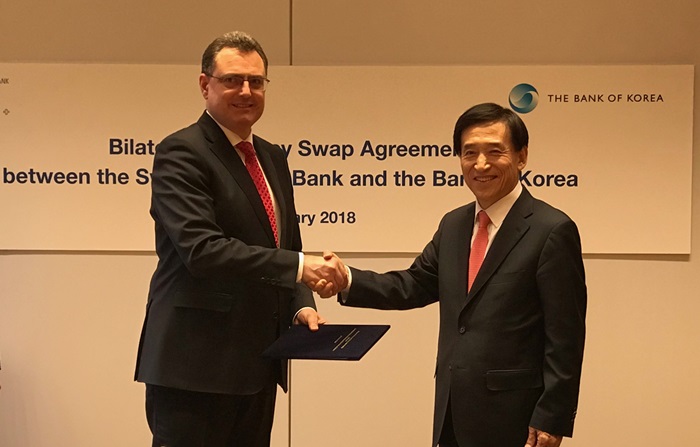 Swiss National Bank Chairman Thomas Jordan (left) and Bank of Korea Governor Lee Juyeol shake hands after signing a bilateral currency swap agreement, in Zurich on Feb. 20.
Korea and Switzerland have signed a bilateral currency swap agreement that will enable its central banks to purchase or repurchase KRW 11.2 trillion, or around CHF 10 million.
The deal was sealed by Bank of Korea Governor Lee Juyeol and Swiss National Bank (SNB) Chairman Thomas Jordan, at SNB headquarters in Zurich on Feb. 20.
The three-year deal is renewable with cooperation from both parties.
This is the second currency swap agreement that Korea signed with a country that holds one of the six most-traded currencies in the world. Korea signed such a agreement with Canada in November 2017.
With the new agreement, Korea has strengthened the safety valve in its foreign exchange sector, which is crucial to balance its foreign exchange holdings, especially in times of financial crisis. In turn, the Korean won has further increased its global standing as an international currency.
"Currency swap agreements are only possible when the countries involved have faith in one another's economies. This agreement is evidence that the Korean economy is in good shape, and that our currency and financial markets are safe," said Governor Lee.