For many years now, a large number of kitchens across the country had in their pantry a white seasoning with a picture of a red sinseollo, or a large bundt pan-shaped soup pan with a hole in the center, on its label. This is Miwon (미원, 味元), which translates as, "the top of tastes," or, "the best of tastes," an iconic seasoning ever since its launch in 1956.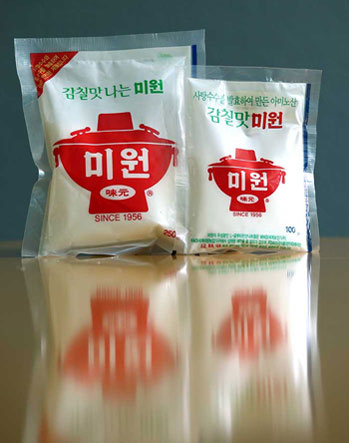 The history of this product traces back to the mid-1950s. After first independence from colonization and then the Korean War (1950-1953), Japanese products made up a large part of the Korean market. The seasonings market was no exception. Seasoning made by Ajinomoto was quite popular among Korean customers at that time. The company Dong-A Hwasung, the forerunner to today's Daesang Corporation, acquired the technology to make glutamic acid, also known as monosodium glutamate (MSG), a seasoning that enhances the flavor of a dish, and developed Miwon for the first time. This creation has since become the most representative seasoning for preparing fermented foods anywhere across the country.
Since its launch, Miwon has gone viral, so to speak. Customers thought the product made every dish more delicious. Miwon sales took off. It soon had more than 50 percent of the seasoning market in Korea.
Miwon is also popular around the globe. Daesang built a seasoning factory in Surabaya, Indonesia, in 1973, the first factory a Korean corporation ever built overseas. Currently, Miwon is exported to about 50 countries, including Southeast Asian nations such as Indonesia and Vietnam, and Northeast Asian countries, like China and Japan, as well as the Netherlands, elsewhere in Europe and to the Americas. Miwon sales hit KRW 289.2 billion last year, with overseas sales accounting for 65 percent, or KRW 188.7 billion, of that.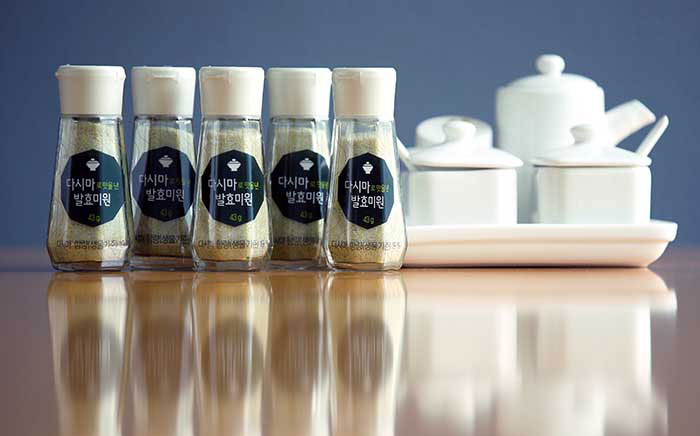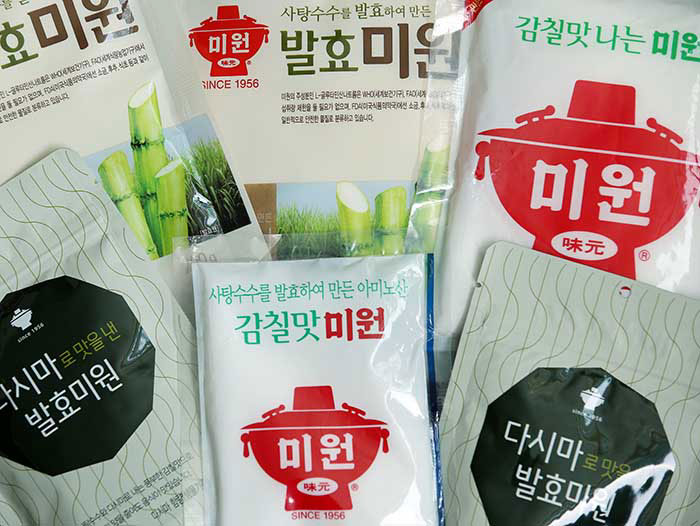 Meanwhile, a controversy has existed over MSG for many years. This is due to the view that MSG is a chemical ingredient, harmful to the human body. However, Miwon is made from natural ingredients, as its main component is actually raw sugar from fermented sugar cane. It is a fermented seasoning, just like yeast. Moreover, the U.S. Food and Drug Administration and the World Health Organization both conducted research to determine whether MSG is harmful or not. The results show that MGS is a safe food additive that can be consumed throughout one's life, addressing the misunderstanding once and for all.
Daesang has focused on research and development while trying to introduce a correct understanding of MSG. The company introduced a new type of Miwon (발효 미원) by reducing the proportion of nucleic acid. This gives a mild, clean taste. Daesang also launched another new product: Kelp New Miwon (다시마 발효 미원). Green granules of this product are made from kelp powder. As kelp is one of the most popular ingredients to make basic broths and soups, this product goes well with any kind of dish, for it is both mild and lightly flavored. If people use Kelp New Miwon when preparing their broth in the early stages of the recipe, they can reduce the amount of salt in the final product, reducing sodium consumption and creating a healthier dish.