Everyone held their breath at a single motion of her hands. Every move she made thrilled the world. The audience stood up for a standing ovation even before Kim finished her performance. A wave of euphoria filled the stadium when "Queen Yu-na" again proved her return.
Korean figure skater Kim Yu-na, gold medalist of the Vancouver 2010 Winter Olympics, won a landslide victory at the World Figure Skating Championships on March 17 (Korean time) in London, Ontario, Canada. Kim outperformed her competitors including Carolina Kostner from Italy and Japan's Mao Asada who scored 197.89 and 196.47 respectively, with her score of 218.31 overall, including points in her short program and 148.34 points in the free skate. This is the highest score she has received in the international championships since her senior international debut.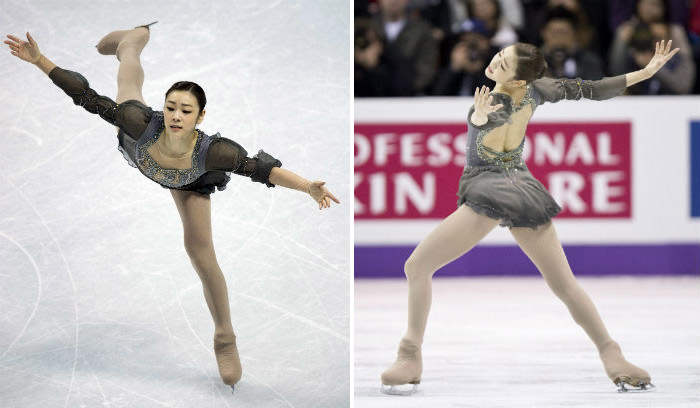 The media and figure skating experts around the globe highly praised Kim's performance. "It's a difference in quality, like the disparity between a five-star hotel and a three-star hotel," said Nancy Armour of the Associated Press of Kim's performance. "Everything she does is elegant and effortless… She is like a bumblebee daintily flitting from flower to flower, and her landings are as smooth as a pebble skipping across the water." The writer even said Kim looked like a "ballerina in a jewelry box" when she does her layback spin.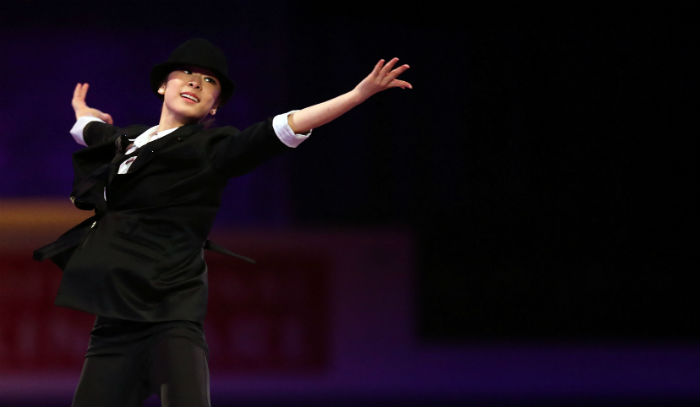 "The night belonged to 2010 Olympic champion Kim Yu-Na, who proved herself still peerless despite returning just three months ago following a 19-month hiatus from competition," wrote Liz Clarke from the Washington Post on March 17. "Skating to music from 'Les Miserables,' Kim landed every jump in her program with effortless grace, opening with a triple-lutz triple-toe combination. All six of her triple jumps were flawless."
Philip Hersh, Olympic sports writer for the Chicago Tribune, Tweeted, "This was 2 events: one with Yuna, and one with everyone else. Utterly unbelievable how good she was." In a March 16 report for the Tribune, he wrote, "It was the 2010 Olympics all over again. Once more, Kim did an ethereal free skate of surpassing brilliance, and her winning margin of 20.43 points Saturday night over defending champion Carolina Kostner of Italy was the largest in the nine worlds with the new scoring system."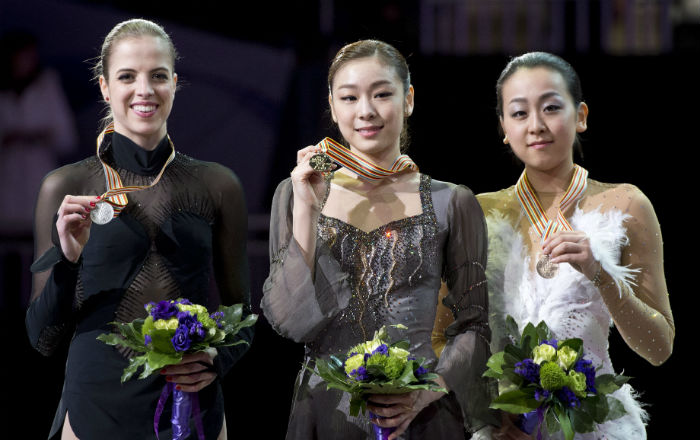 "I had a great long program today, and I am proud I could do it," said Kim in fluent English in an interview at the stadium right after the competition. "I am happy as well to skate here in Canada again with this wonderful audience. I am glad too that we have [two] more [women's] spots for Korea at the Olympics." For Kim, Canada holds special meaning; she has trained in Canada since 2007 and she won the gold medal at the Vancouver Olympics in 2010. Despite her nearly two-year hiatus, Kim retook the gold with a surprisingly high score of 218.31 at the latest International Skating Union(ISU) World Figure Skating Championships. Thanks to her victory, Korea has won three tickets to the Sochi 2014 Winter Olympics from the ISU which allocates tickets to countries according to the result of the world championships this year.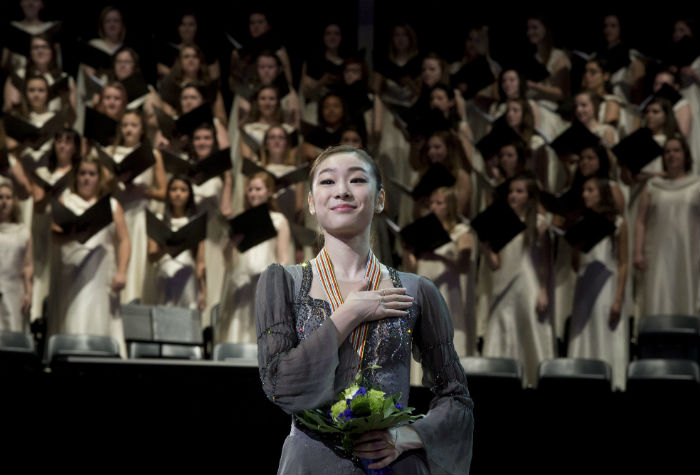 Another highlight of the championships was the national anthem sung by a Canadian choir at the medal ceremony. About 30 members of the female choir sang the national anthem of Korea, which is unusual at ordinary international sporting events.

President Park Geun-Hye sent a congratulatory message to Kim on March 17. She was quoted as saying "The confidence and beautiful performance Kim showed brought great pride and emotion," according to Cheong Wa Dae. "[Kim's performance] served as an occasion to show the world the power of South Korean skating and lifted the prestige of our people. I hope Kim will continue to shine on the world stage."

[Source:Korea.net]