Fuel cell electric vehicles (FCEV) are getting more and more attention in Europe, where there is a premium placed on environmentally friendly technology.
Hyundai Motor has been chosen as a supplier of FCEVs under the Hydrogen For Innovative Vehicles (HyFIVE) act, a pan-European initiative to expand the use of FCEVs. The project is funded by the Fuel Cells and Hydrogen Joint Undertaking, a public-private partnership supported by the European Union.
The multi-million euro HyFIVE project is being managed by the Greater London Authority. Partners also include vehicle manufacturers BMW, Daimler, Honda and Toyota, as well as industrial gas companies. Hyundai is the world's first auto manufacturer to build hydrogen fuel-cell vehicles on a dedicated assembly line. In total, the project aims to deliver 110 fuel-cell vehicles from the five manufacturers, including 75 from Hyundai. Hyundai's ix35 Fuel Cell, known domestically as the Tucson ix FCEV, will be sold in many markets, including Germany, Britain, Italy and Sweden.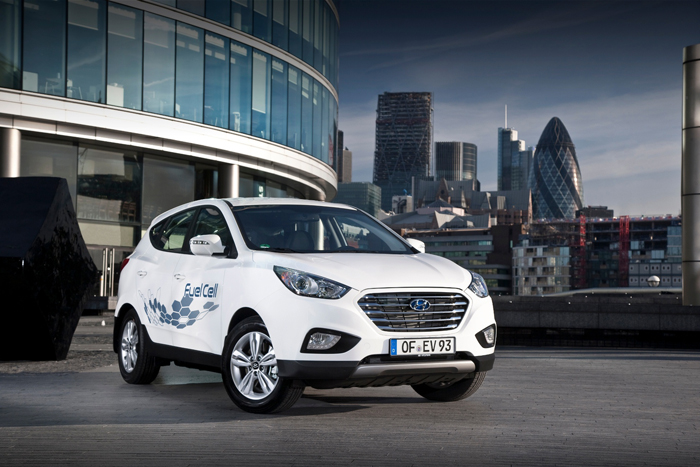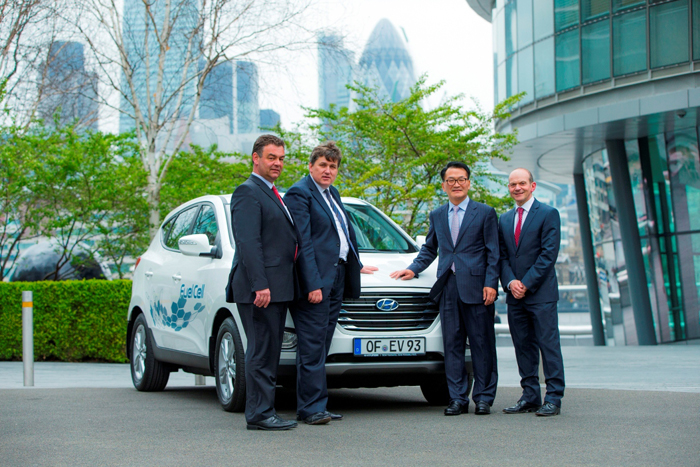 The ix35 Fuel Cell is fitted with a 100-kilowatt (136 ps) electric motor, allowing it to reach a maximum speed of 160 kilometers per hour. A pair of hydrogen tanks, located between the vehicle's rear wheels, enable the vehicle to travel up to 594 kilometers on a single fuelling. The vehicle has a high fuel efficiency rating, equivalent to 27.8 kilometers per liter of gasoline. Its engine can be started even in extremely cold weather lower than minus 20 degrees Celsius. Filling the hydrogen tanks takes fewer than 10 minutes. Fuel cell electric vehicles are directly powered by hydrogen instead of using a plug-in charger, and emit only water from the tailpipe, making the vehicle much more environmentally friendly.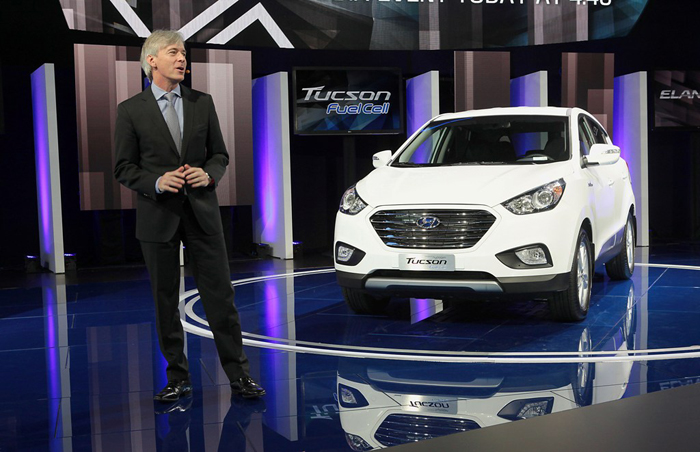 In February 2013, Hyundai became the world's first automaker to begin assembly-line production of FCEVs. As part of its ongoing efforts to promote FCEVs, the company signed a memorandum of understanding with four Nordic nations in January 2011, with the city of Copenhagen in May 2011 and with two more Nordic governments in November 2011, to either test drive FCEVs or to supply the vehicles.
Hyundai began delivering its FCEVs to government and public offices in Europe, starting with 15 ix35 Fuel Cell vehicles to the city of Copenhagen, in June 2013. This was the first shipment of its FCEV since the company started making them. Two more were sent to the city of Skåne in Sweden in July 2013.
Hyundai intends to produce and sell a total of 1,000 FCEVs worldwide by 2015. FCEVs are being sold in the United States, as well. Hyundai Motor America started accepting lease applications for its ix35 Fuel Cell in January 2014 and began delivering the vehicles to customers in April.
"Hyundai started developing hydrogen fuel-cell vehicle technology in 1998. By delivering more vehicles for use on European roads, this latest partnership will help further raise awareness of hydrogen power as a long-term transport solution," said a Hyundai official.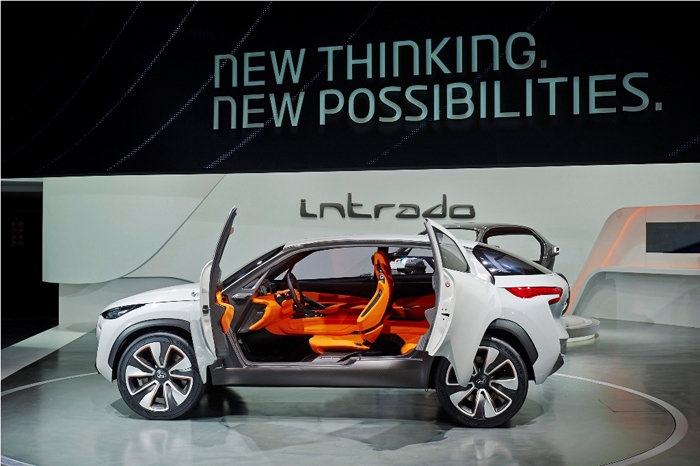 By Limb Jae-un
Korea.net Staff Writer
jun2@korea.kr
[Source: korea.net]